株式会社松綱染工所
Regular price
$303.00 USD
Regular price
Sale price
$303.00 USD
Unit price
per
Sale
Sold out
Based on an idea to create something new, the parasol is made by collaboration of several dyed textiles.
Considering the quality of design at first, similar but different died textiles are mixed in the modern way.
The point is the flower printed cotton on threadlike lines called Keman Suji and fine pattern of check.
The hook shaped handle made of oak tree is not only useful, but its joint is also decorated by the gorgeous flower pattern. Enjoy your fashion with this special and rich parasol.
◆ Producer
Hirotaka Sunagawa Profile
Born 1966 in Shinjuku, Tokyo. The fifth generation of the long-established Edo Komon Matsutsuna, whose father is the late Kenichi Sunagawa, a traditional craftsman. While improving his skills as a craftsman, he challenges the creation of new Edo Komon with his unique sensibility. The motto is "Challenging boldly while preserving tradition". In 2012, he was certified as a Master Craftsman Meister of Shinjuku technique. Current vice president of the Youth Association of the Tokyo Metropolitan Traditional Craft Industry Group.
Share
View full details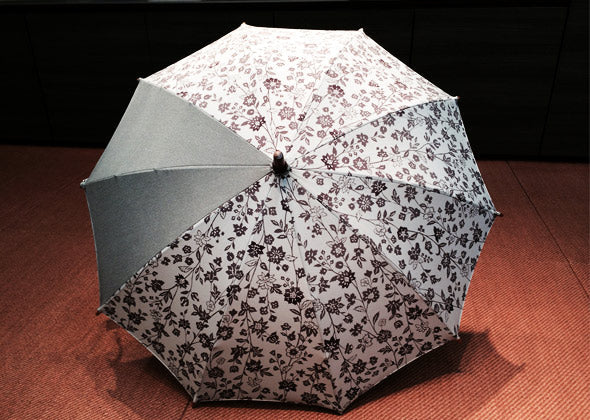 FAQ
I would like to combine multiple orders, is that possible?

Excuse us but please note that all products on this site are shipped directly from the producers, so we cannot bundle multiple ordered products.
When will the item be delivered?

As a general rule, we will ship within 7 business days after payment is confirmed. However, the shipping date may differ depending on the arrival status of the product.
*If we are unable to prepare the ordered product for reasons such as being out of stock, we will contact you by email and discuss the matter with you.
I would like a refund for this item.

Please request a return from the inquiry page of this site within 8 days after the product arrives, and promptly return the product to the location specified by the customer center. In addition, the shipping fee for returning the product will be borne by the customer. For details, please see "Specified Commercial Transaction Law".