アダチ版画研究所
Regular price
$186.00 USD
Regular price
Sale price
$186.00 USD
Unit price
per
Sale
Sold out
Paralleled in fame "Red Fuji" within the series of "Thirty-six Views of Mt. Fuji", is this "The Great Wave Off Kanagawa" (Kanagawa-oki Namiura).

It astonishes us, first of all, with its fantastic composition and powerful brush work with which the artist depicted, like a close-up snapshot of a camera, a moment of a huge wave falling over a boat.
The unconventional idea, however, is not the primary importance of this print. Its greatness lies in the aesthetic refinement through which the fanciful design was sifted into high artistic quality.
Already some thirty years before, Hokusai had published the seascapes of "Boats Going Through High Waves" (Oshi-okuri Hato Tusen no zu) and "Sight at Hommoku off the Coast of Kanagawa" (Kanagawa-oki Hommoku no zu), worked out with an entirely identical idea and furthermore, with emphatic employment of Western-style representation.
These earlier pieces contained sundry additional components around the waves. In this present print the additional motifs are abbreviated or eliminated, and the Western-style exaggeration has disappeared.
Lowered viewpoint and shaded waves constitute the keynote of the composition here. Filtration through artistic purification, as it might be called, is instrumental in this sight. The blue stripes on the inner surface of waves absent in the earlier two. Probably they were improvements after his experiment of high waves in his illustration in the novel "Chinsetsu Yumiharizuki".
This print, thus, suggests the result of various elements lurking in its background. The triangular upheaval of wave in the foreground, the large triangle of a high wave in the middle ground, and the small triangle of snow-capped Mt.Fuji in the distance, create a skillfull perspective through formation of three similar forms of different dimensions and allocations. The clever compositional plan attests to the artist's well-developed rationalistic observation and technique.

| | |
| --- | --- |
| Screen dimensions | 26.0×38.0cm |
| Frame size | 40.0×55.5cm |
Share
View full details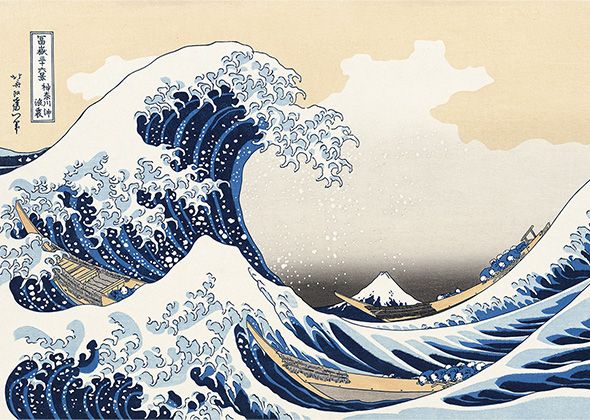 FAQ
I would like to combine multiple orders, is that possible?

Excuse us but please note that all products on this site are shipped directly from the producers, so we cannot bundle multiple ordered products.
When will the item be delivered?

As a general rule, we will ship within 7 business days after payment is confirmed. However, the shipping date may differ depending on the arrival status of the product.
*If we are unable to prepare the ordered product for reasons such as being out of stock, we will contact you by email and discuss the matter with you.
I would like a refund for this item.

Please request a return from the inquiry page of this site within 8 days after the product arrives, and promptly return the product to the location specified by the customer center. In addition, the shipping fee for returning the product will be borne by the customer. For details, please see "Specified Commercial Transaction Law".